Dilex Search Enables Complex Search
Leverage the ongoing investments in your University's academic digital library by making complex search tasks more accessible to library users.
Search Anytime, Anywhere
Library users can initiate their academic searches on their mobile devices whenever they have a moment, and easily resume this work on their desktop computers without skipping a beat.
Visualization-Enhanced Search
Seeing visual overviews of search tasks and sessions enables library users to make sense of what they have done and what they have found.
Integrates with Ex Libris Primo
Dilex Search is a turnkey plug-in to Ex Libris Primo, leveraging your existing investments in digital library infrastructure.
Explore Digital Library Resources with Dilex
Information seeking in an academic digital library is complex in nature, often spanning multiple search sessions. Resuming academic search tasks requires significant cognitive effort as searchers must re-acquaint themselves with previous search session activities and previously discovered documents before resuming their search.

Further, some academic searchers may find it convenient to initiate such searches on their mobile devices during short gaps in time (e.g., between classes), and resume them later in a desktop environment when they can use the extra screen space and more convenient document storage capabilities of their computers.

To support such searching, we have developed an academic digital library search interface that assists searchers in managing cross-session search tasks even when moving between mobile and desktop environments.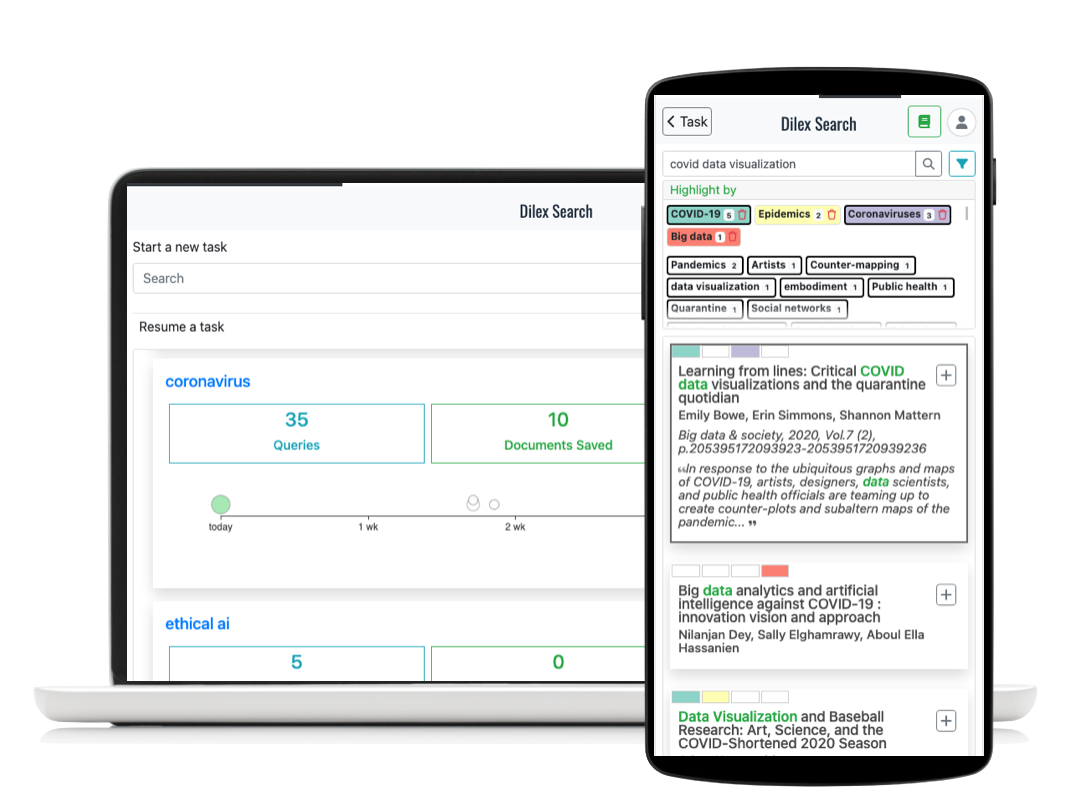 Cross-Session Searching
Complex search tasks are difficult to complete in a single session. More commonly, we have limited time and energy when conducting searches that are challenging, and we need to spread our search activity over multiple sessions. Dilex Search ensures that any search activity done in the past is not lost. The queries we issued and the documents we saved are clearly visible when returning to the search task.
Cross-Device Searching
Dilex Search provides a clean and simple search interface for mobile devices, allowing us to focus on our search task and easily save documents we'd like to review later. When accessing Dilex Search from a computer, the extra screen space allows for complex queries to be generated and enables keyword-based document highlighting.
Search Task Resumption
When returning to a previous search task, Dilex Search provides a clear and intuitive visual timeline of our past search activities, allowing us to see when we last searched on the topic, how engaged we were in the search, and how many resources we saved. This serves as both a summary of past activities as well as motivation to continue our academic search tasks.
Information Re-Finding
Previously saved search results are organized by search task, enabling us to keep our various search interests distinct from one another. This supports easy information re-finding within Dilex Search.
Our Story - Built by Academics for Academia
Dilex Search began its life as a research project conducted by Sebastian Gomes under the supervision of Dr. Orland Hoeber at the University of Regina (Canada). With the support of our University Library, we built an interface layer on top of their Ex Libris Primo API with a specific focus on supporting complex academic search tasks. Informed by the academic literature on complex search tasks, exploratory search, information visualization, and interactive information retrieval, the early prototypes of Dilex Search made novel contributions to how academic searchers can be enabled to initiate and manage their complex search tasks, regardless of the type of device they had available at a given time.
Sebastian and Orland wrote a paper that described the key features of Dilex Search, which was accepted to and presented at the 2021 ACM SIGIR Conference on Human Information Interaction and Retrieval. This is the premier academic conference at the intersection of information retrieval and human-computer interaction.
Encouraged by the positive comments received by the academic community, Sebastian and Orland continued the line of research, further enhancing the interface and conducting a user study that compared Dilex Search to the typical interface provided by Ex Libris Primo. Significant benefits were found in terms of overall user engagement in the search activities, and especially when searchers needed to stop and resume their search tasks at a later date. The results of this study were presented as a full paper at the 2022 SIGIR Conference on Research and Development in Information Retrieval, which is the top worldwide conference on information retrieval.
Upon completing his Master's degree, Sebastian and Orland started discussions about the feasibility of turning the research prototype implementation of Dilex Search into a functionally complete search interface that could be integrated tightly within the Ex Libris Primo ecosystem. Working with Darren Widenmaier, an experienced tech startup executive at Quadrant Newmedia, they created Dilex Search Corp.
As of the Spring 2023, Sebastian, Orland, and Darren, with the support of the development team at Quadrant Newmedia, are putting the finishing touches on Dilex Search. We anticipate integrating Dilex Search within the digital library search offerings at the University of Regina shortly thereafter. We are happy to demonstrate and discuss the value of Dilex Search to undergraduate students, graduate students, researchers, and academic staff within anyone who is interested.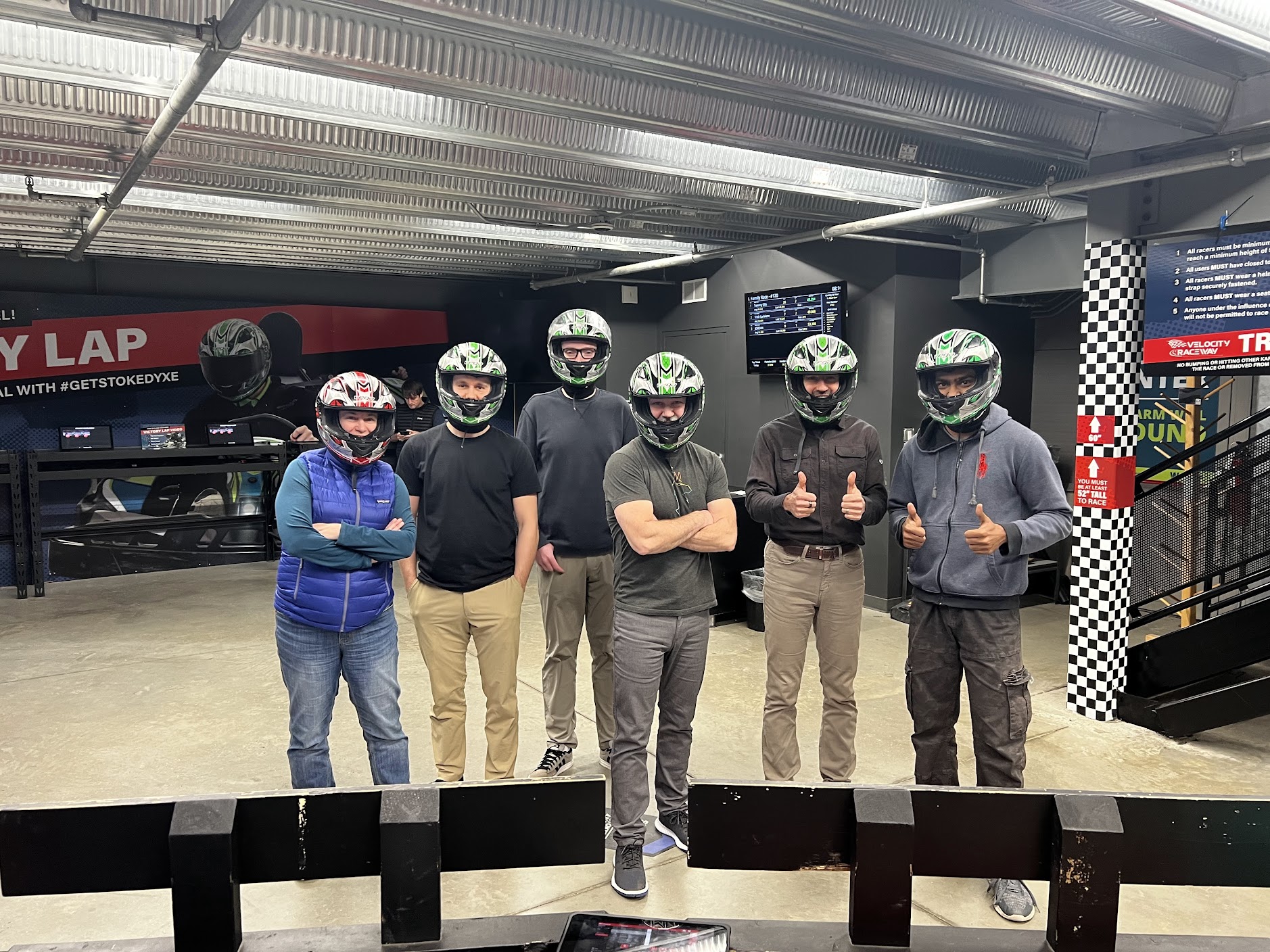 Top